If you live too far away from your destination to cycle the whole way, why not consider combining cycling with travelling by train?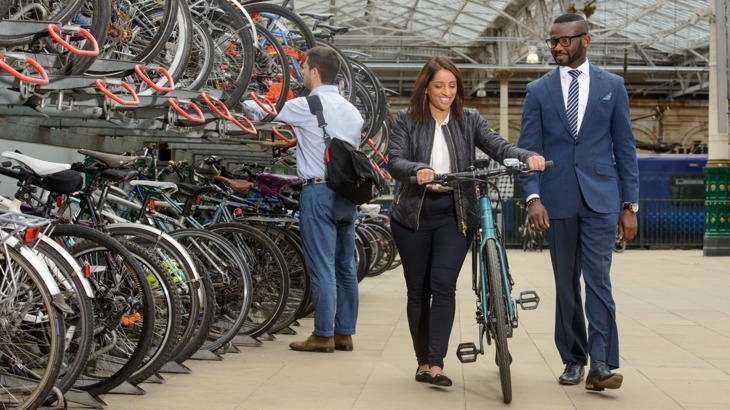 Cycle parking is available at most stations
National Rail encourages the integrated use of cycles and trains - two convenient and environmentally friendly forms of transport
The benefits of cycling to the station are:
cost - lower cost of travel than by car, and even bus
convenience and speed - aside from walking, cycling to the station consistently offers the most reliable journey time for the customer
healthier - you feel healthier when you cycle or walk to the station
Bikes are allowed free of charge on most British trains at most times of day.
However, there's usually a limit of how many bikes can be carried per train, so you may need to reserve a bike space ahead of travelling.
Different train operating companies have different rules about cycle carriage, and some companies restrict bikes on particular services at certain times, such as commuter trains into London.
The number of cycle-rail journeys in which a bicycle is parked at the station has increased by 75% since 2010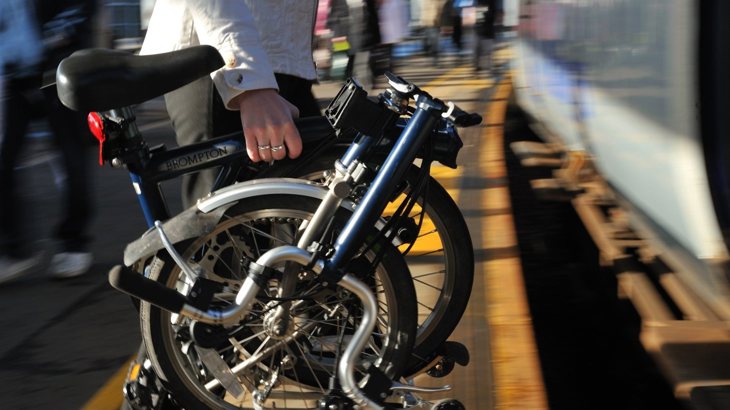 Fold up bikes can be taken onto trains
Help with planning your cycle-rail journey
To help plan and make your cycle-rail journey easier, National Rail has created PlusBike - a one-stop-shop for information about your combined cycle and rail trip.
PlusBike can be easily accessed via the National Rail website or mobile app. 
Information on PlusBike is shown specific to your journey, or by station and includes:
cycle facilities at stations, along with the number of cycle parking spaces
cycle-hire at stations or nearby with links directly to them
cycle carriage rules, including taking cycles on a train specific to your rail journey
whether a cycle reservation is required or available.
Check out National Rail's Cycling by Train leaflet for information about the policies and contact details of different train operating companies.
Having a folding bike will allow you to take your bicycle on any train at any time.
If you're taking a full-size bike on the train with you look for the signs showing you where to stand on the platform before your train arrives, or ask a member of staff.
The other option is to use a different bike at each end of your train journey, and many train operating companies are encouraging this approach with more secure bike parking and bike hire schemes than ever before.
Some other useful sites and apps:
Want more information about commuting by bike?