Gone are the days when the only way to take a passenger on your bike was to 'give them a backie', there's now a vast choice of safe and stylish ways to transport your toddler.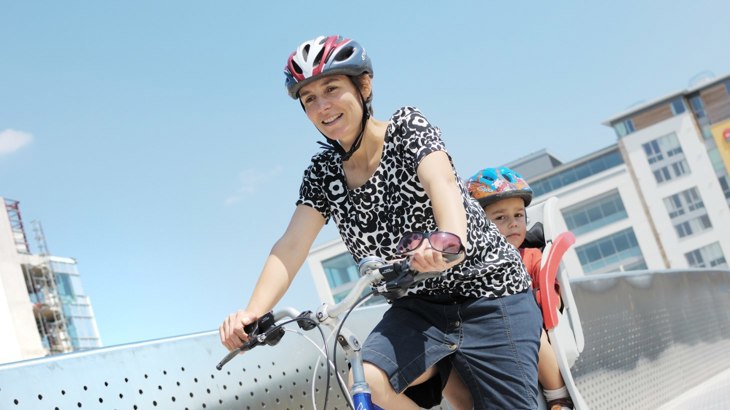 Your local bike shop should be able to help you choose the best kit for your requirements – here's an overview of what's available.
Child seats
From around 12 months, when a baby can support its head with a helmet on, little ones can be carried in a rear- or front-mounted child seat.
Straps and padded headrests are essential because children will sometimes nod off during a ride.
Good foot support will certainly make the journey much more comfortable for children and good padding protects young bottoms from bumps.
Look for a seat that can grow with your child and always check your child is within the weight range of the one you choose.
Rear-mounted seat
These are widely available, cost-effective and some have the added advantage of reclining so your toddler can sleep.
On the downside, you can't talk easily to your toddler and you'll be obscuring their view.

Front-mounted seat
Have your little one up front and you can talk to them as you pedal, and they can see where you're going.
A front-mounted seat makes getting on and off your bike easier than a rear-mounted seat, as you can hop on the bike and lift your child up, rather than holding the weight of the bike and the child upright as you climb on yourself.
A drawback, however, is that it can affect your steering and balance.
Trailers
Trailers are great eco-friendly solutions for travelling with young children.
Most can be used for babies from around 12 months when they can support their head, although some makes can be equipped to carry younger babies.
If you intend to carry a young baby in the trailer it's best to check with the trailer manufacturer first.
Some parents strap baby car seats into the trailer but this is not recommended by manufacturers of car seats and trailers. 
Trailers come in single or double versions and are fully waterproof, come with sun nets and also give you room to carry your shopping.
Some models even double up as buggies and cross country strollers.
Bear in mind that the cheaper model you buy, the heavier it will tend to be.
Trailers can also be difficult to carry up and down steps and require storage space at home.
Freight or cargo bike
Freight bikes, also known as cargo bikes, might be relatively expensive but they're a great option if you want to transport several children (and your cargo) by bike.
Many have three wheels and the kids sit in a sturdy box in front of you, safely strapped in with a safety harness.
Some come with fittings for a baby car seat and you can seat older children on the back.
Cargo bikes for kids were invented in Holland where it's very flat so you might find their weight an uphill struggle.
However, there are now electronic models available that can give you the extra push you need when tackling steeper hills.
Tag-along trailer bike
Tag-alongs (the back half of a child's bike attached to the back half of an adult one) allow a child to be towed.
They're great as your child can add some of their own pedal power, or just freewheel and enjoy the ride.
You can attach these to any bike, including a tandem.
Cycling with two kids
Your family may be expanding, but if you feel confident you can still cycle with two toddlers in bike seats.
Use a front-mounted seat for your youngest, and a rear-mounted one for your eldest.
Check your brakes regularly as you'll be carrying extra weight.
Once your eldest is around four years old, they can graduate to a tag-along.
Double trailers are also ideal for carrying two kids once your youngest can support their head.
Just remember to cycle gently and slow your speed as babies can be sensitive to jolts and bumps.
Would you like more information?