Here at Sustrans we love bicycles of all shapes and sizes. There are so many different types available, which make all sorts of journeys possible.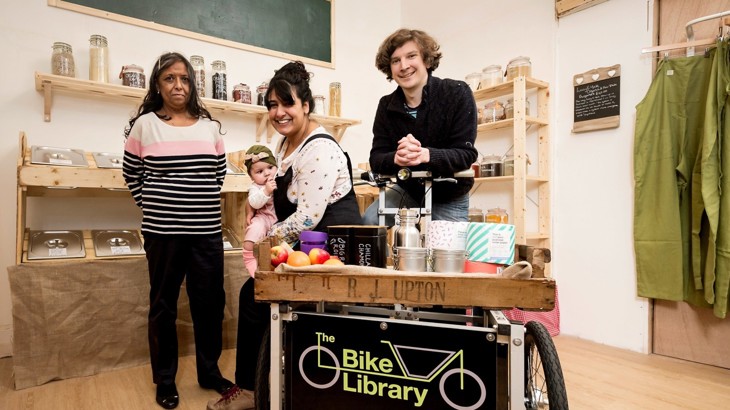 If you regularly ride a bicycle you may have considered using your bike for ferrying your young children around day-to-day.
Well with a cargo bike you can do just that along with the groceries and all kinds of other items that can be tricky to transport on a regular bike.
As with many types of bicycle, cargo bikes are a very popular alternative to cars in the cities and countries that we associate with great cycling habits.
While they might not yet be such a common sight here in the UK, they have been hauling truckloads of products and goods for well over a century.
The very first in use date back as far as 1885, during the Industrial Revolution.
Today the cargo bike is having a resurgence with more parents and businesses using them for everyday journeys.
They are a good option for families with small children and companies that deliver to local customers.
If you would like to use your bike for more than just getting yourself around, a cargo bike may be the answer.
Cycling with children
Cargo bikes, particularly the box-bike style, are ideal for transporting young children around in.
Depending on the type of cargo bike (and the size and age of your children) it can be possible to transport up to four children with space for other cargo as well.
Natalie Martin, our workplace Travel Plan officer in the South of England and a busy mum, owns a cargo bike.
She uses it to transport her two children (aged 7 and 4 years old).
We asked her about her experiences and she said:
"I am the very proud owner of a Bakfiets electric cargo bike. I sold my car and I now use it to take my children to school and do the shopping.
"I have to pedal and push a bit up the hills, so I get plenty of exercise, but it's so much quicker than walking. The only concern nowadays is that my children may end up getting less exercise!"
Different types of cargo bike
If you are confident at pedalling yourself around, in all likelihood you will take to riding a cargo bike with ease.
The same rules and regulations apply as a regular bicycle (you don't need insurance or a licence), and you can take them on the same routes you would any other day to day bicycle.
Thanks to clever design and engineering cargo bikes are very diverse and come in many different forms.
You may have seen different types of cargo bikes on the road (ranging from Boxbikes, which resemble something like a more-mobile wheelbarrow to almost stretch-like long-tail bikes that have extra space for passengers on the back).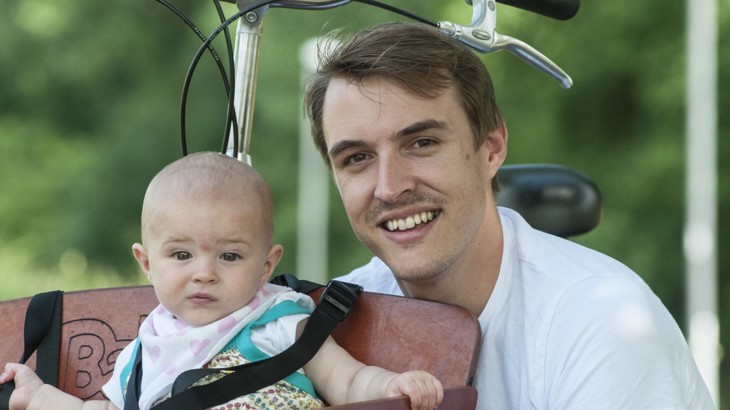 To keep things simple, we have separated the main types of cargo bike by the number of wheels they have:
Two wheels - a two-wheeled cargo bike feels more like a traditional bicycle but still takes some getting used to. They are usually considerably lighter than the three-wheeled version.
Three wheels/tricycle - a three-wheeled cargo bike (or tricycle) is more stable but heavier and slower to ride. These bicycles corner very differently than a two-wheeled version and take a while to get used to. As with other tricycles, cornering is more about steering and less leaning is required. One advantage of having a third wheel for extra stability is that when you stop, you can go hands-free (very helpful if you want to reorganise your cargo during your trip).
Although very easy to ride, one of the main differences you will find with both types of cargo bikes is that they feel quite different than a regular bicycle.
So give yourself time to adapt to them.
I sold my car and I now use it to take my children to school and do the shopping.
Buying a cargo bike
Much like buying a car, before you purchase a cargo bike you need to consider a lot of questions including; what is your budget, how are you going to use it and where will you keep it?
Buying a cargo bike is a big investment.
Basic models start at around £500 and can go up to £4,000+ for the larger electric pedal-assisted models.
If you are looking to spend that much on a mode of transport you will want to make sure you are getting the most out of it.
Take time to think about how you are going to use it. What journey's will you make with it?
What will you be carrying? Can you use it for all of your every day trips?
And of course, you will want to keep it safe – where will you keep it?
We strongly recommend that you test drive one before you buy it.
Many retailers will let you rent one to try out in your own home or workplace, often reducing the rental charge from the price of the bike if you purchase it.
Another option is to opt for a pedal-assisted model.
An electric cargo bike, although more expensive (generally an extra £1,500 on top of the cost of your bike), really opens up a whole new world of possibility, especially in hilly areas.
This may be worth bearing in mind if you are planning to travel quite long distances.
Tips for cycling with children
Cycling with passengers can be a daunting prospect, especially if they are your loved ones.
But with practice and training, a cargo bike is a great way to move around.
Here are our top tips for cycling with a passenger in your cargo bike:
Know your route before you ride it, especially if using off-road paths.
It's best to avoid going over kerbsides with a cargo trike as it can feel quite unstable – always use drop-kerbsides.
Reduce speed and apply the brakes gradually when slowing down or stopping. With extra weight on-board, it may take longer than you think.
Take into account the effect that hills, road cambers, street furniture and speed bumps/cushions will have on the bike when planning your journey.
Don't overload the cargo bike or load it unevenly (Refer to the manufacturer's instructions).
Different cargo bikes require different styles of riding; the longer the wheelbase the wider the turning.