Every street has the potential to be a greener space with cleaner air. A place that puts people first and isn't dominated by cars. And this helps communities to come together and feel safe to travel more actively in the area. So here are 13 things you can do to make your street a safer, nicer place to be.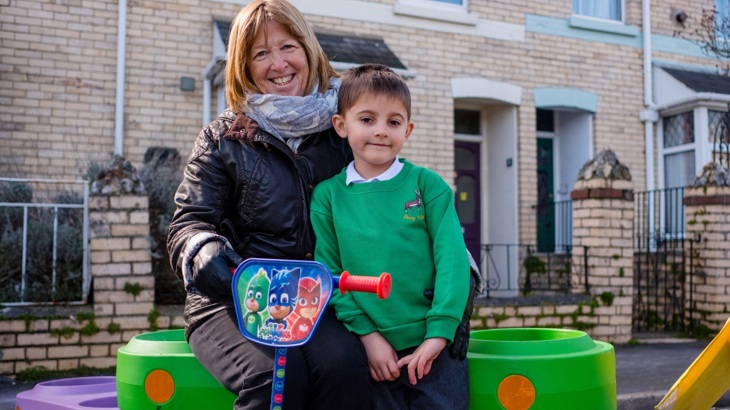 We have put together a list of things you can do with your neighbours to make your street a better place for the whole community to enjoy.
1. Clean up your street
Bins, parking, litter and dog fouling can all create problems in streets and can stifle the potential of a neighbourhood to be a happy and sociable place.
So how do you tackle issues like these?
You can get a pair of litter pickers and start tackling it on your own but this can be a lonely and exhausting task.
So why not have a chat with others affected? You may be able to organise a work party. Getting together and tackling issues like this often spark debate on other subjects.
Keep Britain Tidy runs a campaign called the Dog Poo Fairy, which provides resources and advice regarding dog fouling.
Streets Alive have developed an age-friendly streets toolkit with information on what makes a street better for all residents.
  
2. Report problems to the council
You can make a big difference to your street by letting your council know about anything that needs to be repaired.
Fix My Street is a great way to report things like potholes, fly-tipping, broken paving or street lamps that don't work.
  
3. Green up your street
Front gardens make a huge contribution to our streets. Even the smallest of displays can really help brighten things up, offer a haven for wildlife and help reduce the risk of flooding.
Colourful and well-maintained front gardens create more attractive and friendly streets, create pride and show how well-loved streets and neighbourhoods are.
Great front gardens are also self-propelling - they encourage and inspire other people to make improvements leading to more changes and better streets for everyone.
Growing flowers, herbs and vegetables is a great way to bring some colour to your neighbourhood.
And spending time in your front garden planting things and watering gives you an opportunity to chat with neighbours and passers-by.
Even the smallest changes, such as plant pots outside the door, making a window box or planting daffodil bulbs on your street can make a big difference to how it feels and gets people to think differently about the area.
If you have no space for planting at your own house, consider if there is a location nearby for a community growing patch.
Organise a planting day and introduce trees
You could hold a planting day with neighbours where you all come together to plant containers and window boxes.
This is a fun activity suitable for all ages and can be fairly simple to organise. And it can be done safely whilst socially distancing.
Because plants need regular care and attention, they also provide a fantastic way for neighbours to stay involved.
You might have someone on your street who has knowledge of planting. And you could approach people with great front gardens as a starting point.
Ask neighbours to bring a container with them, and then you can all plant seeds or plants into them.
You might like to think of a theme to tie the front gardens together and create a connected display, such as sunflowers, bee-friendly plants such as lavender or a colour scheme.
Trees can make a huge difference to your street too. They are attractive, help to reduce pollution, attract wildlife, act as shade on a sunny day and can even provide edible fruit.
Although maintenance needs can make them expensive for local authorities, the benefits make the possibility of introducing trees worth looking into.
4. Campaign for a 20 mph zone
Find out if where you live is implementing 20mph as the default speed limit in residential and urban streets.
If not, join the 20's plenty campaign.
  
5. Encourage residents to travel actively more often
You could organise a street event to raise awareness of the traffic issues in your street and give alternatives to getting around by car.
Why not encourage your neighbours to try out cycling and walking for more of their every day trips?
You can ask your local school if they have travel plans in place which encourage children and staff to walk, scoot and cycle to school.
Or see if there are any local bike training sessions or cycling events and encourage people on your street to go.
  
6. Introduce some street art
As well as being attractive and making your street unique, public artwork can also work as a method of psychological traffic calming.
It can give the message to drivers that they are in a space that is home for people, encouraging them to drive slowly and respectfully.
You or a neighbour may have the artistic skills to create a sculpture or paint a mural yourselves.
If not, you could work with an artist who will interpret your ideas into a suitable piece for your street.
Don't forget to get permission from your local authority beforehand.
And bear in mind that it's unlikely the council will pay for artwork so you (or the artist) may need to raise the money for it.
There are lots of creative and relatively inexpensive ideas that people have tried on their streets to make them into more vibrant places.
In the case of a mural speak to your council first to seek permission.
Simple actions like painting your fence or garden wall can add instant vibrancy and change the feel of the whole street.
Here are some examples:
7. Create space to socialise and play
If you and your neighbours want to create places for children to play, you could hold a street play event or organise a street party.
Think about creating a permanent space in which children can play independently and are able to express themselves freely.
It can be as simple as leaving some parking spaces free to ride scooters and bikes or run around in.
Play features can be traditional play equipment like a slide and swings or less formal items such as large boulders to climb on or hopscotch painted on the ground.
Playing Out supports communities to temporarily close their street to cars so that they can be used by the whole community to play outside for the day.
Remember to follow your local Covid-19 guidelines on gatherings and social distancing.
  
8. Set up a street library
A library is a great way to meet people and get access to books for free. You could use an old phonebox or build something unique.
Little Free Library is an American organisation which provides useful information on creating a street library.
  
9. Control the number of parked cars
If parked cars have taken over and it is difficult to get around on foot or find parking in the street, you can ask your local council to consider implementing a Resident Only Parking Zone (RPZ) or Controlled Parking Zone (CPZ).
There may be a small annual fee for this in exchange for limiting the times and places people can park.
Another effective way to reduce the number of parked cars is to look into a car club and a dedicated parking space for it in your street or very close by.
  
10. Provide on-street bicycle parking
Creating an area for bicycle parking on your street is a great way of encouraging people to cycle.
It shows how many other people are cycling, which encourages others to do it more.
Ask people on your street if they'd be interested in cycle parking, to see what your community wants and how many people would use it.
Cycle parking will require space. Often this can be found by reallocating a car parking bay to bikes.
Just think - in the space of one car, you can fit ten bikes.
There are various products available, ranging from simple metal cycle hoops, more creative stands, stands that combine planters, covered stands, and even on-street cycle lockers.
Installing bicycle parking will need permission from your local authority, they are usually keen to help if there is community demand.
Some even have funds set aside, so it's worth having a conversation with the parking team or community officer.
Life Cycle UK offer free cycle parking stands.
ParkThatBike is an independent transport consultancy that works with local authorities, government agencies and major employers.
Cyclehoop specialises in innovative cycle parking solutions and infrastructure.
  
11. Create seating areas
Providing a seating area can make a big difference in how a street is used, and turn it into a fun, social space.
Having somewhere to sit or rest on-route can make a huge difference for an elderly or less able-bodied person.
It can give people with mobility issues the confidence and provision to go outside for errands or to socialise.
Don't forget, you'll need permission from your local council for any permanent features that are not installed on your own property.
    
12. Volunteer with us and get active in your community
Sustrans community volunteers give advice about travelling actively.
And some set up walking and cycling activities in their local community, workplace or school.
They help to promote Sustrans and raise awareness of active travel locally, showing people how easy it is to travel actively in their area.
Find out more about becoming a Sustrans volunteer.
  
13. Create a parklet
Parklets are reclaimed parking bays for socialising.
To reclaim a parking bay in your community, you will need to apply for a 'parking bay suspension' via your Local Authority.
It's usually a simple form, with a small cost attached.
Your local authority may offer to supply cones for the bay as part of the cost, so you may need to contact them to arrange what is necessary.
To test the concept, you can create a temporary mini-park, provide seating or organise informal play activities in the space.
You could include planting, turf, trees, benches, bike stands, tables and chairs, deckchairs, artwork, painting and play equipment and encourage your neighbours to come and join in.
Here's some inspiration to get you started:
Edible Bus Stop help transform urban spaces into design-led active places.
PARK(ing) Day is an annual day where communities and artists collaborate to temporarily transform parking bays into public space in San Francisco. It takes place globally in September.
Pop Up Parks transform spaces through playful invitations.
Our top tips on getting started
Before you start, think about what you want to achieve and how you will get there.
This helps everyone involved to know what's happening and what's expected.
Here's an example:
Aim: To create public space for the community to enjoy
Objective: Reclaiming 1-2 parking bays and installing seating, planting and artwork.
Once you have your aims and objectives, you'll need to make a plan.
You may decide to form a constituted group which can help you to obtain funding.

Useful links and downloads
Just Act provides practical advice for anyone wanting to make a change in their community. Just Act's '10 Steps' are a very useful and practical guide to running a project.

The Keep Britain Tidy Breaking Barriers guide has useful advice about encouraging people to get involved.
Community Matters also has lots of information on setting up community groups.
The Resource Centre has some really good guidance on the different types of legal structures for community and voluntary groups.