Are you struggling to find the right gift for a cycling fanatic? Well, look no further. Fun stocking fillers for kids. Regional pocket maps. Eco-friendly gifts. Stylish cycling jackets. We've got it all. Here's our handy gift guide for cyclists and outdoor enthusiasts.
Have a bike-themed festive season
Do you love going out for a bike ride? You will love these cycle-themed cards and wrapping paper. 
Buy from the Sustrans shop and you'll also be making it easier for others to experience the joy of cycling and walking.
Every purchase supports our work and helps to make the National Cycle Network safer and more accessible for everyone.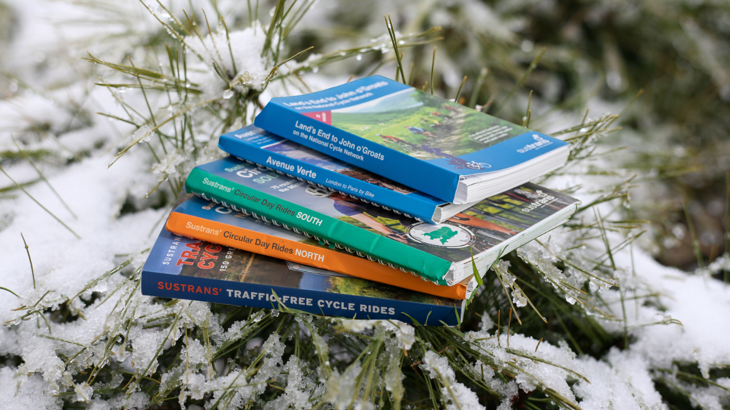 Our bestselling guidebooks make ideal gifts for cyclists.
Guides for weekend bike rides
Discover the UK, one pedal at a time with our Circular Day Rides guides – the ideal gift for cycling day trippers.
Each guide is a treasure trove of 75 meticulously crafted cycle routes, ranging from 20 to 40 miles. Tailored for intermediate to experienced cyclists, our guides are your passport to unforgettable weekend bike adventures.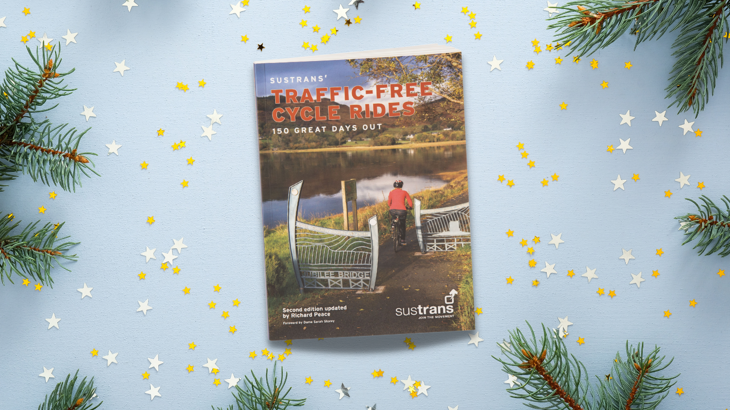 A great cycle rides guidebook for anyone who wants to explore the UK by bike.
I have already picked a year's worth of trips looking through the book, finding nearby campsites to use with our campervan and bikes.
A perfect present for all the family
Our official Traffic-Free Cycle Rides guidebook brings together 150 of the UK's finest car-free routes for walking and cycling. 
This bestseller is the perfect gift for creating unforgettable family excursions. 
Revamp your ride with Proviz reflective cycling jacket
Proviz's reflective cycling jacket redefines versatility in your biking adventures.
Choose between fluorescent yellow and 100% reflective with its reversible design, all while enjoying the benefits of being waterproof and easily machine washable.
For those daily cycling commuters, the Proviz REFLECT360 cycling rucksack is the ideal choice. Offering reflectivity, water resistance, and complete adjustability.
Gift a cyclist some winter comfort
Winter cycling reaches new levels of coziness and comfort with the Proviz classic waterproof cycling gloves.
With padded palms, these gloves provide enhanced comfort, and their dependable silicone web grip ensures an exceptional ride.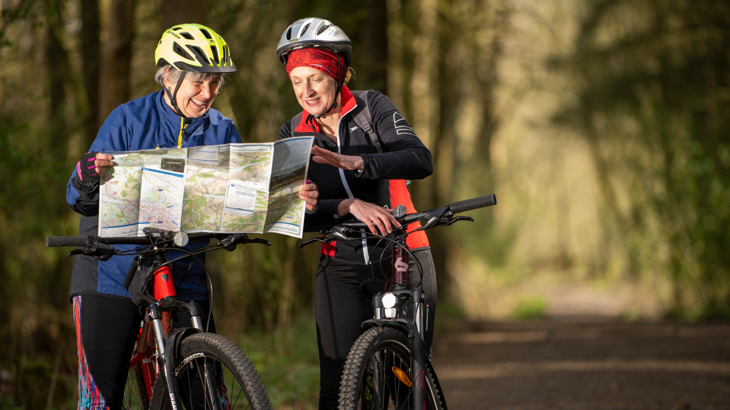 Local and long-distance maps to inspire future bike rides. Credit: Andy Mccandlish
Regional cycle maps: the ideal stocking stuffer for cyclists
Give the gift of local discovery. Inspire your gift recipient to embark on exciting bike journeys, discovering the beauty of their own backyard.
Handy pocket size and rapid delivery. Reveals a hidden world.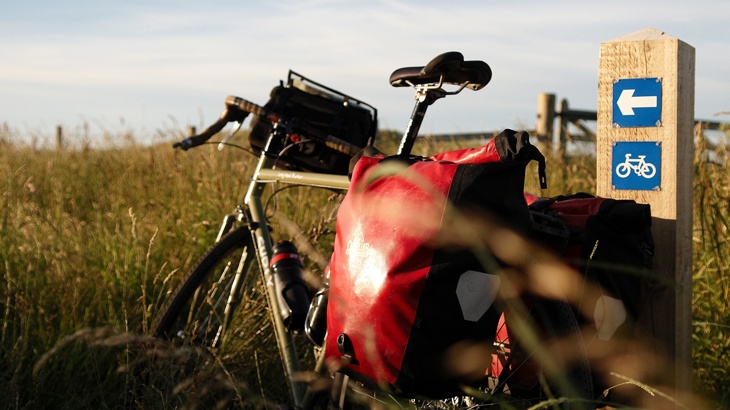 An Ortlieb Sustrans pannier makes a special gift for any cycling adventurer. Credit: Cog+Wheel
A gift for cycling and walking commuters
Treat bike commuters and tourers alike with an exclusive Sustrans branded Ortlieb pannier. This classic waterproof roll-back pannier is an absolute favourite and it's easy to see why.
For ultimate versatility, get the Ortlieb rucksack adaptor and turn your pannier into a comfy backpack.
Inspire a new cycling adventure
Looking for a memorable gift? The iconic Land's End to John o'Groats ride is the ultimate UK cycling challenge.  
Sustrans' official guide to the 1,178-mile (1892.6km) route takes you through some of the most picturesque landscapes in England and Scotland. 
Don't forget the commemorative t-shirt! 
The guidebook is very informative and well laid out. Lots of detail: parking, places to stay and eat as well as route detail and links. T-shirt fits great. All I've got to do now is cycle 1200 miles to earn the right to wear it!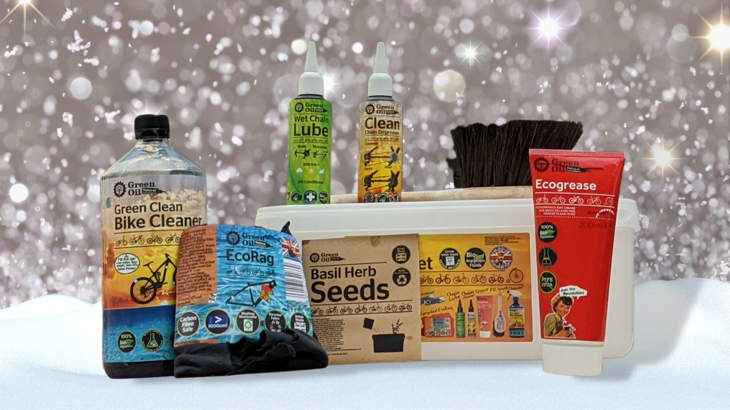 Eco-friendly gifts for a full bike service.
Eco-friendly gifts for the green living cyclists
Maintain your bike the eco-friendly way with the Eco Rider Deluxe maintenance kit.
This environmentally conscious set is designed for easy transport and ideal for storage in your garage or bike shed.
Or browse our full range of sustainable cycle maintenance options.
Gifts for the outdoor enthusiasts
Camping adventures. Long winter walks. Or short summer ambles.
A Chilly's water bottle is the ideal companion for a fan of the great outdoors.
Why not pair it with one of our Great Adventures enamel mugs? A camping must-have accessory. 
Unique upcycled gifts for the environmentally-conscious bike enthusiast
Handmade from recycled inner tubes, each item in our eco-friendly and vegan gift collection is entirely one-of-a-kind. 
From our multi-use pouch and saddle bag to our coin purse and card holder, embrace sustainability with a touch of style. 
Stocking fillers for a cycling fan
Looking for stocking fillers for kids or adults? Find the perfect cycling-themed gift to make them grin.
From fun bike socks to pocket cycle maps to an illustrated notebook, there's something here for cycling fans young and old.
For the cyclist who has everything
Are you looking for a truly unique present? Why not get personal and help care for their favourite cycling and walking routes?
By gifting a mile on the National Cycle Network, you support our dedicated volunteers in caring for routes close to your heart.