Brum Breathes is a community engagement project funded by Birmingham City Council and delivered by Sustrans, focussing on air quality. It's part of a range of measures aimed at reducing air pollution in the city.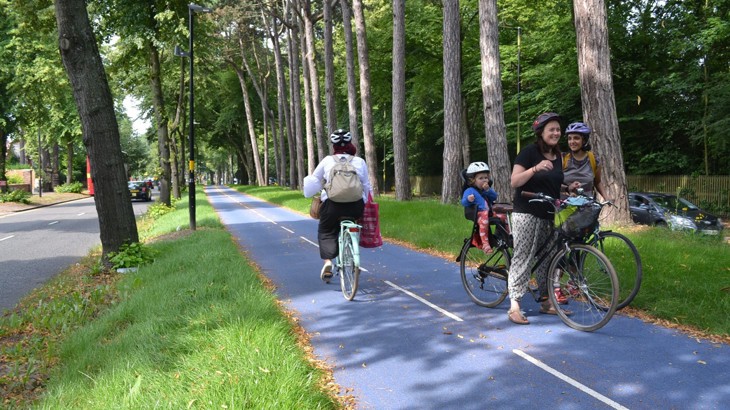 This project aims to raise awareness of air pollution, its causes and how it affects our health.
About the project
We offer training sessions and support to groups across Birmingham. This includes air quality monitoring walks through local neighbourhoods so we can keep track of air pollution levels.
We're working with:
community organisations
voluntary groups
faith groups
large workplaces
university societies.
The project aims to raise awareness of air pollution, its causes and how it affects our health.
And together, we'll help everyone to improve air quality in their area.
  
We have lots of useful resources about air quality that you can download from the bottom of this page.
Our interactive air quality map
We've worked with one of our fantastic Brum Breathes clean air champions to produce an interactive map showing the air quality in Birmingham.
It uses data from Birmingham City Council, it shows the annual mean levels of Nitrogen Dioxide (NO2) at monitoring stations across the city, in micrograms per cubic metre (µg3). 
Nitrogen Dioxide (NO2) presents a risk to health. Any level may be harmful, but the higher the level the greater the risk.
  
Take a look at the map below, or open it up in a new window.
  
We also have a short explainer video below the map which shows you how to interact with the data.
Map key
Level 1 (below 30 micrograms per cubic metre)
Level 2 (30-36 micrograms per cubic metre)
Level 3 (36-40 micrograms per cubic metre)
Level 4 (40+ micrograms per cubic metre)
Birmingham Clean Air Zone (CAZ)
  
Useful links and resources
We have lots of air quality information and webinar recordings so you can find out more about the project and the impact of air pollution.
  
Download our info sheets:

Watch our webinars and guides on YouTube:
  
The project will be creating more resources in future, so if you have a requirement for your organisation or community group please email us at brumbreathes@sustrans.org.uk.
Calling all Brummies: Get involved today
We want to work with students, faith and community groups to get more information out into Birmingham communities about air quality and the Clean Air Zone.
Here are five ways you can get involved.
  
1. Take a look at our extra resources
Read our info sheets, watch our webinars and share the resources in the box above with your friends, family and colleagues.
  
2. Join the #BrumBreathes conversation
Talk about air pollution and how people can improve it in Birmingham on social media.
Don't forget to use #BrumBreathes on your TikTok, Facebook, Twitter and Instagram accounts.
  
3. Attend one of our training sessions
Organise a Brum Breathes training session with your group or organisation. Email us to arrange a session.
  
4. Chat to our other clean air champions
Connect with other clean air champions on our WhatsApp group and share ideas and information. Email us for details.
  
5. Spread the word
Talk to friends, family and neighbours about what they can do to improve air pollution in their area.