As more people are taking up cycling for the first time or getting back on their bikes, there is a greater need than ever to ensure all those travelling by bike have the skills and confidence to cycle safely. Sustrans provide a range of training packages that can help everyone learn to cycle safely and confidently on their local shared paths or roads.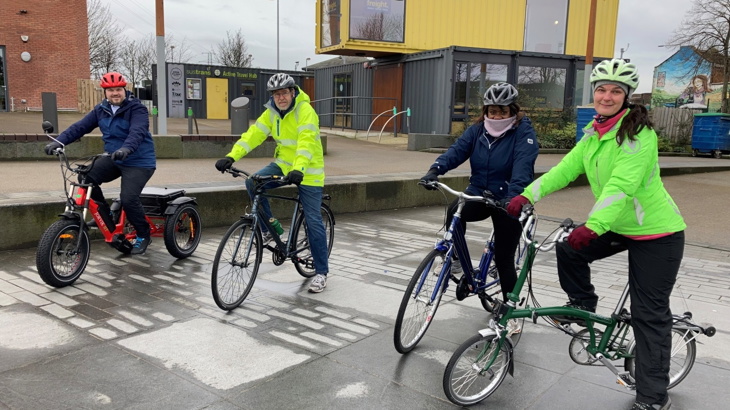 We offer a range of cycle training packages throughout Northern Ireland.
We can provide cycle training and packages to a range of groups including:
Workplaces
Employees who cycle to work are healthier, happier, more productive and have less absenteeism.

We have a number of training modules suitable for employees:
Pedal Ready - Learn to ride with control in a traffic-free setting, National Standard Level 1.
All Things Bike - Plan your commute route, locks, lights, luggage and more.
Bike Fix Basics - Cleaning, maintenance, diagnose faults and puncture repair.
On-road Cycle Training (Foundation) – Ride with confidence on quieter residential roads, National Standard Level 2.
On-road Cycle Training (Advanced) - Riding safely and with confidence on arterial roads, multi-lane roads, roundabouts and bus lanes, National Standard Level 3.
Full-day, half-day or single sessions are available.

Contact us for more information or to book sessions for your workplace.
Drivers
Do you drive as part of your job? Are you unsure how you should drive around people who cycle?

We offer two programmes led by qualified instructors that will ensure we all stay safe on the road.
Cycle Awareness - Half-day practical course on bikes to both experience cycling on roads and to raise awareness of how to drive safely when sharing roads with people cycling.
Sustainable Urban Driving (SUD) - One day course in partnership with Driver Hire UK where drivers will learn the needs of pedestrians and cyclists. The day is split with a half day of theory and a half day of cycling. SUD counts as one day driver's CPC.
Contact us for more information or to book one of our driver courses.


Schools
Learning to cycle from a young age sets children up for a future of active travel. Our team can visit the school and provide training to the pupils.
Cycle training Level 1 (up to 32 pupils a day)
Cycle training Level 1&2 (16 pupils over 3 days)
Additional sessions can be discussed when booking
Contact us for more information or to book one of our schools sessions.