As more people are taking up cycling, there is a greater need than ever to ensure good cycling skills. Sustrans can help you or your organisation learn to cycle safely and confidently on the road.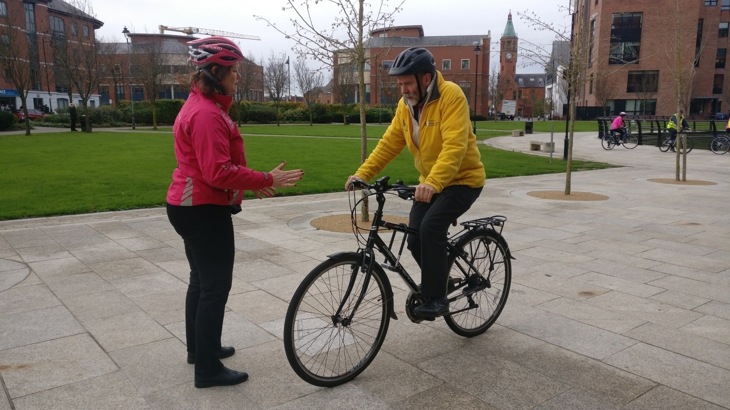 Sustrans Cycle Training Courses
We have a summer programme of FREE cycle training courses for adults and children, from beginners to those who want more skills to cycle on road. Find out more about our free programme of activities.
Communities: Better by Bike
Groups can learn to cycle confidently for both leisure and daily journeys over a structured course of seven weekly, 1.5-hour sessions. Maximum group of 12.
Business: Better by Bike
Ease traffic congestion around your workplace and improve the health and concentration of staff by offering cycle training. Courses tailored to suit groups and times for workplace staff.
Fit Families
Want to spend quality time with your family and get fit in the fresh air? This 2.5-hour course teaches the basics of safe cycling as a family and to raise your confidence going out on the road together.
Commuter Day Package
Do you want to leave the car behind and cycle every day to work? This full-day course provides you with National Standards 1, 2 and 3 training to improve your on-road cycle skills, together with route planning to make your daily commute easier.
Adult Returners Class
Get back in the saddle. This two-hour class is perfect for those who may not have ridden a bike in a while and who are keen to return to cycling.
Ride Leader Training
Would you like to take larger groups out cycling? This two-day CTC-accredited ride manager course will give you the skills and confidence to manage group rides, including on quiet roads.
Basic Bike Maintenance
Learn how to fix a puncture and more. This very practical three-hour course will show you how to get back on the road when mechanical faults occur.
A best practice training programme for HGV drivers and companies, including commercial goods operators, to help prevent collisions with vulnerable road users in urban areas. This course is delivered in partnership with the Freight Transport Association.
1:1 Adult
Occasionally, we can offer individuals who are less comfortable in a group setting, specially tailored one-to-one training. These are one-hour premium courses that will give you the skills and confidence to get cycling.
Working with lorry drivers
Cyclists are among the most vulnerable road users and, with more bikes than ever on the roads, there has been an increase in casualties, particularly involving lorries.
Safe Urban Driving is a best practice training programme for HGV drivers and companies, including commercial goods operators, to help prevent collisions with vulnerable road users in an urban environment. The accredited course has been developed by the Freight Transport Association (FTA) and Sustrans in conjunction with Cycle Training UK (CTUK), and has received funding through the Public Health Agency (PHA) and Belfast Strategic Partnership.
The unique part of this one-day course is that drivers get to experience the road from the perspective of a person on a bike.
Working with bus drivers
We recently worked on a successful initiative with Translink and Travelwise NI, 'Bus and Bike Travelling in Harmony' campaign which saw 2,000 bus drivers undertake training on how to better share the road with people on bikes. We also provided free on-road cycle training earlier this year ahead of the launch of the Belfast Bike Share Scheme.
How to book a course
For more information about courses or costs please contact Programme Co-ordinator Martyn Jones or phone 028 90434 569.
All our cycling instructors are fully qualified to National Standard. We ensure our instructors all have Access NI clearance, first aid training and receive regular Continuous Professional Development courses.