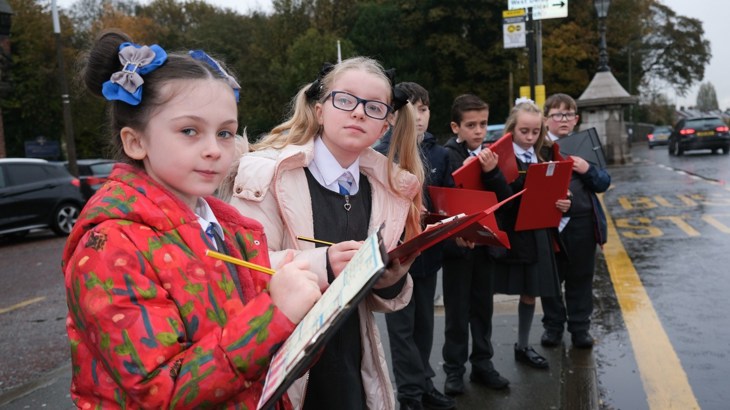 West Derby has high levels of traffic congestion, air pollution and road accidents. The two-mile area includes Blackmoor Park Infant school, where six-year-old Bobby Colleran was knocked over and killed in October 2014, when walking home from school. 
Children and the local community are the chief designers for their own school streets. They attend a series of activities and workshops to help advise our team about the problems they face on their daily journeys and work with designers to come up with practical ways to solve them.
Our team will also look at how schools can link with existing walking and cycling routes, including the nearby Liverpool Loop Line, to make it easier for children to travel by foot or bicycle. Four schools will have the chance to win funding to make infrastructure and other changes to make their street safer and more attractive.
Stage 1
Big Street Survey
In the first stage of the project children in all nine schools think about their journeys to and from school and what they would like to change. Pupils survey the streets around the school to assess potential dangers and rate them according to how the spaces make them feel and behave.
Designers
Working with our Urban Designers, pupils at the schools explore ideas for redesigning the street outside the schools to encourage more families to get to school on two feet or two wheels.
They look at practical ways that our team can change the street to create a healthier, friendlier environment for children, parents and residents.
Community
Our grassroots approach involves the whole school community. Local residents have the opportunity to hear all about the work children are doing, to share their views and ideas about how the street can be improved and to co-design the street. 
Our team holds drop-in events to gather views and ideas that help us to design new-look streets that help reduce traffic and boost 'active travel'.
Schools in the West Derby project (stage 1):
Holly Lodge College for Girls
Broughton Hall Catholic High School
Blackmoor Park Infant School
Blackmoor Park Junior School
Mab Lane Mixed Primary School
St Paul and St Timothy Catholic Infant School
St Paul Catholic Junior School
Cardinal Heenan Catholic High School for Boys
St Mary's CE Primary School
Stage 2
In the next stage of the project, four winning schools get the chance to put their street design ideas into practice.
We will work with the schools to redesign their street, implementing changes such as altering a dangerous junction, installing a new crossing, restricting car parking or closing school streets at peak times.
The Sustrans schools officer will continue to work with all schools in the project to help inspire more children to walk and cycle their school journeys.
Our West Derby schools project is funded thanks to a £200,000 grant from the Freshfield Foundation. It is part of our work with Liverpool City Council, Liverpool City Region and MerseyTravel to make it easier for more people to walk and cycle.