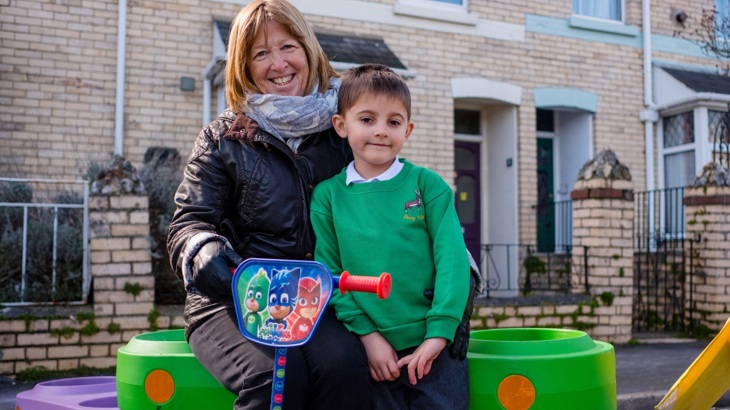 This policy position was published by Sustrans in December 2016.
Summary
As the UK population continues to rise, if we are to increase cycling and walking it is critical that planners work in collaboration with transport planners, public health professionals and developers to jointly plan and develop new housing developments and wider urban regeneration.
The design and location of where people live has a significant influence on how people travel. New development should wherever possible be located within or adjacent to existing urban areas or commuter hubs. New developments should also be built at higher densities wherever appropriate and be mixed use.
Sustainable transport infrastructure should be planned from the outset following principles known to influence active travel choices to realise local health, environmental and economic outcomes, whilst making places more attractive to live.
Context
The UK population is expected to rise by almost 10 million over the next 25 years [1]. Housing has been prioritised in the 2015 comprehensive spending review [2] and the UK Government is currently embarking on the biggest house building programme by any government since the 1970s to deliver 400,000 affordable new homes by 2021. As new homes are built local populations will grow. This will increase travel and exert additional pressure on existing networks. Much of this growth is expected to occur in or around cities and towns where many transport networks are already under stress with high levels of congestion and air pollution.
It is therefore critical that new housing developments and urban planning more widely takes into account these added pressures in order to deliver a transport network that is attractive, efficient and sustainable. Cycling and walking (alongside excellent public transport services) offers a healthy, efficient and economic mode of travel for many local journeys and reduces pressure on our road system from private vehicle use.
Much more can be done to make cycling and walking safe, convenient and attractive to people. As towns and cities expand it is therefore vital that we design and build new housing developments and their associated local transport infrastructure according to proven evidence that ensures their design and location influences more sustainable travel choices. This can be achieved whilst creating attractive and healthy places for people to live and where businesses want to invest.
What we think
Integrate housing growth, transport and health
Local planning authorities should better integrate their goals for housing growth, transport and health to ensure mutual objectives can be realised. For example, some local authorities are finding ways to better integrate transport, health and planning teams to ensure that public health and transport objectives are included within the planning process at a very early stage. This helps ensure walking and cycling provision is considered from the beginning of the planning process.
Build within or adjacent to existing towns and cities or nearby commuter hubs
We must seek to identify and build in the most appropriate locations that enable cycling and walking. These exist primarily within or adjacent to existing settlements where the distance to jobs, schools and other services is reduced. Building at appropriate but higher densities also increases proximity and more compact cities with urban intensification tends to reduce car use. For example, across the UK in 2004 the average rural resident drove 25% more miles than the average suburbanite and 44% more than the average urbanite [3].
Design higher density and mixed use developments
Building to a higher density, wherever feasible and appropriate, encourages more compact settlements thereby increasing proximity and enabling active travel whilst reducing private motor vehicle use [4]. Creating mixed use developments enable people to live closer to services they need meaning active travel and public transport can become normalised.
Design and account for walking and cycling in new developments
Planners need to design and account for sustainable transport in the planning of new housing developments. High quality cycling and walking infrastructure should be part of the design of developments to make active travel as easy as possible [5]. Finally, motor vehicle use and parking should be managed effectively to reduce dependency upon the car and create more liveable places.
Connect new developments to existing cycling and walking networks
We need to connect new developments to employment, education, retail and other local services directly through high quality cycling and walking routes and networks [6] or indirectly via public transport. This can improve cycling and walking provision for both new and existing communities.
Enable communities to play a role in the planning process
Existing and new communities increasingly play an active role in the planning process [7] and should be engaged to ensure sustainable transport infrastructure associated with new developments meets their needs. Public support will assist planning authorities work with developers to get the right solutions built for cycling and walking.
Securing investment and support for cycling and walking
Local and national government must work in partnership with other organisations, including developers, public health practitioners and others to secure investment and support for sustainable transport improvements through new housing developments. For example, Section 106 and the Community Infrastructure Levy in England and Wales or planning gain in Scotland can be used to pay for active travel and public transport infrastructure associated with new developments.
References
[1] ONS (2015) National Population Projections: 2014-based statistical projection.
[2] UK Government (2015) Comprehensive Spending Review.
[3] Independent Transport Commission (2004) Suburban future University of Southampton 
[4] Kenworthy and Laube (1999) Patterns of automobile dependence in cities: an international overview of key physical and economic dimensions with some implications for urban policy. Transportation Research Part A 33 691-723.
[5] For example the Sustrans Design Manual, London Design Standards or the Welsh Active Travel Design Guidance.
[6] Ibid
[7] Department for Communities and Local Government (2013) Neighbourhood Planning.