With many of the National Cycle Network's walking and cycling routes passing through or close to National Trust and National Trust for Scotland properties, you don't need to hop in the car to enjoy enriching days out.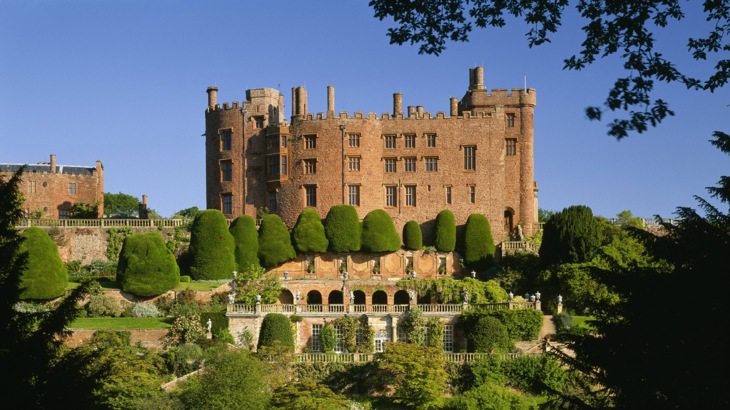 Powis Castle © National Trust / Andrew Butler
Whether culture, history or nature is your thing, here are just a few of the National Trust and National Trust for Scotland sites you can get to on the Network.
If you're after long, scenic walks with somewhere to grab a tasty treat at the end, this 600-acre Georgian landscape garden could be for you. The play area will keep the kids occupied while you browse the plant centre or sip coffee in the café, and the site is located close to the traffic-free section of National Route 14. 
Lying within the Chilterns AONB, this windswept area of chalky grassland has miles of footpath for energetic exploration, with a café and gift shop for post-walk resting. History buffs will want to check out the Neolithic burial mounds, and the site can be accessed via the mostly traffic-free National Route 574.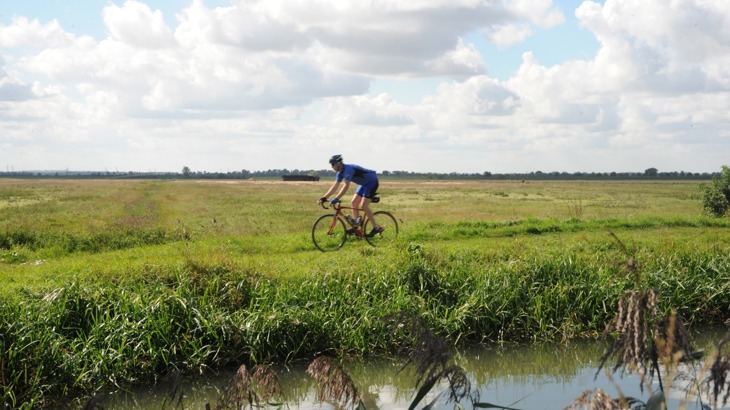 Nestled close to York Minster, this historic townhouse comes replete with a collection of prized artworks, antiques and furniture, along with a tranquil garden where you can view the cathedral. It lies a short distance from National Route 658.
This wetland area is a must-visit for nature lovers, with acres of flowery meadows and marshy reedbeds to explore. Said to contain 9000 species of plant and animal life, this site can be reached via National Route 11.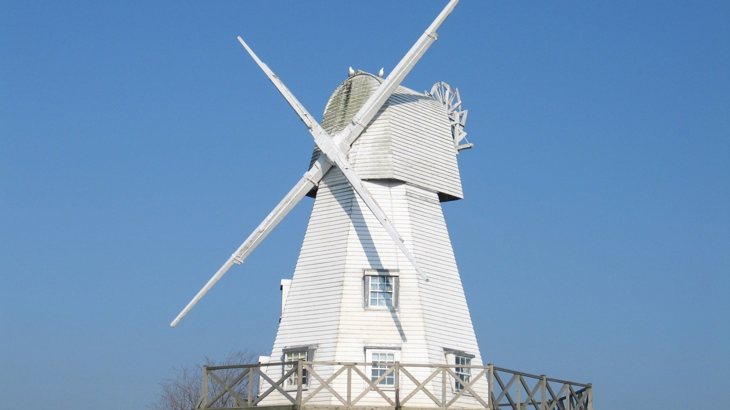 Windmill near Lamb House in Rye
Along with a three-acre garden that's free to explore, this 18th-century merchant's home hosts a range of exhibitions centred around its many interesting inhabitants across the years. The largely traffic-free Rainham Marshes ride on National Route 13 passes close to the property.
Whether you're interested in literature, history or would merely like to discover the pretty town of Rye, this Georgian house is worth a visit. Both Henry James and the novelist EF Benson lived and worked here, and there's a charming garden and courtyard tea room for visitors to enjoy.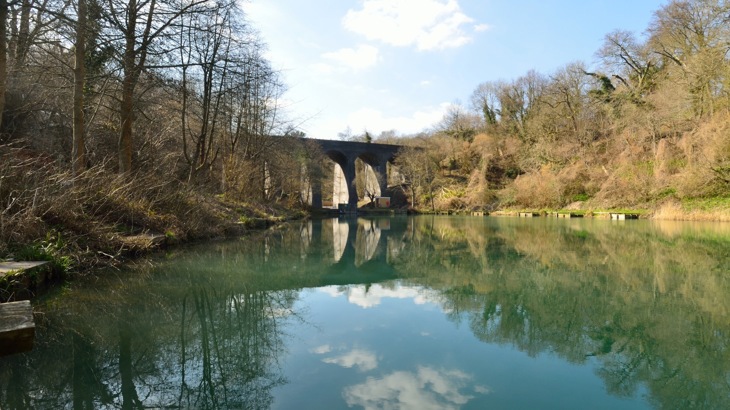 Tucking Mill viaduct, near the Two Tunnels Greenway
In addition to the 17th-century manor house, there are a variety of verdant gardens and children's play areas to explore on this property, paying testament to its former function as a farming estate. It lies close to the traffic-free Airedale Greenway which runs along the Leeds and Liverpool Canal.
There's an idyllic feel to this 18th-century landscape garden, whose valley setting gives a commanding view of Georgian Bath. With a lake, a beautiful bridge and "musical playground" for the kids, this gem is close to the traffic-free Two Tunnels Greenway.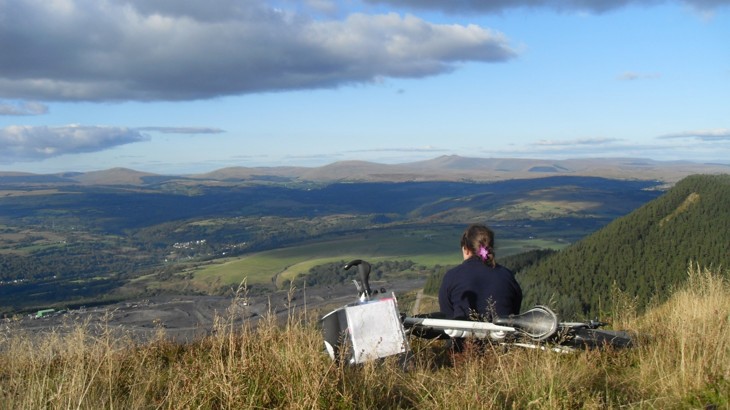 View on the Celtic Trail East
The interior of this 17th-century redbrick mansion tells the story of the Morgans, among the most powerful and influential families in Wales. For outdoorsy types, however, there are 90 acres of parks and beautiful gardens to be enjoyed, and the estate lies close to the Celtic Trail East on National Route 4.
Built as an imposing stronghold during the 13th century and gradually altered over the centuries, this grand mansion houses a museum of Indian and Far Eastern relics gathered by the Clive family. Its extensive formal gardens are a must see, and the site is close to the Lon Cambria route (please note that Lon Cambria is primarily on road and contains sections with high traffic speeds).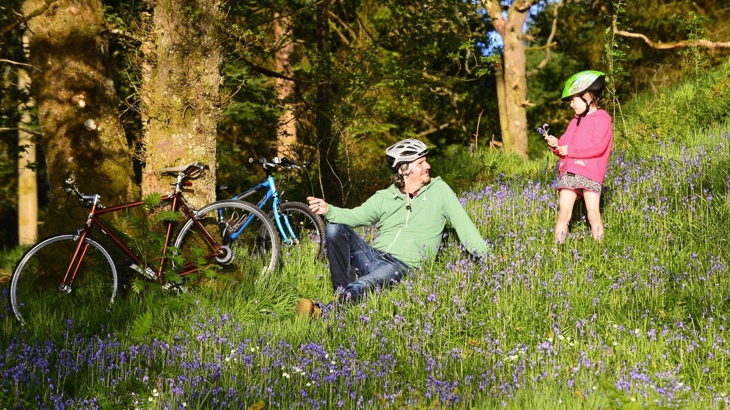 It may look like a fortress from medieval legend, but this imposing structure is actually a manor house built in the 1800s. Inside there are opulent rooms and a fine art collection; outside there are beautiful views of Snowdonia and picnic-perfect grounds and gardens.
History abounds within the walled North Wales town of Conwy, and this medieval merchant's house is a particularly rich place to experience it, having stood for nearly 600 years. It now houses a museum containing historic household items and boasts an impressive stone fireplace.
With commanding views of the beautiful Usk Valley, this densely wooded hill forms the remains of an Iron Age fort, the largest of its kind in the county. In Spring, the ground is carpeted with bluebells, primroses and other flowers, and the site is not for from National Route 42.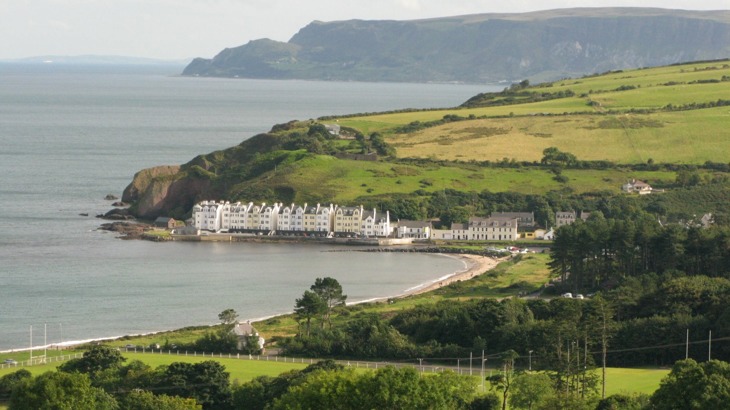 Here's one for walkers: with great views of the Lagan Valley and a number of scenic trails – including one leading to a Neolithic burial monument, the Giant's Ring – this oasis of meadows and woodland has plenty of places to blow out the cobwebs. It can be reached via the traffic-free Lagan and Lough path. 
If this quaint conservation village gives you distinct South West England vibes, that's because it was designed in a way to please the local baron's Cornish wife. Lying within the Antrim Coast and Glens AONB, there are also castle ruins and caves to explore nearby. National Route 93 runs through the village.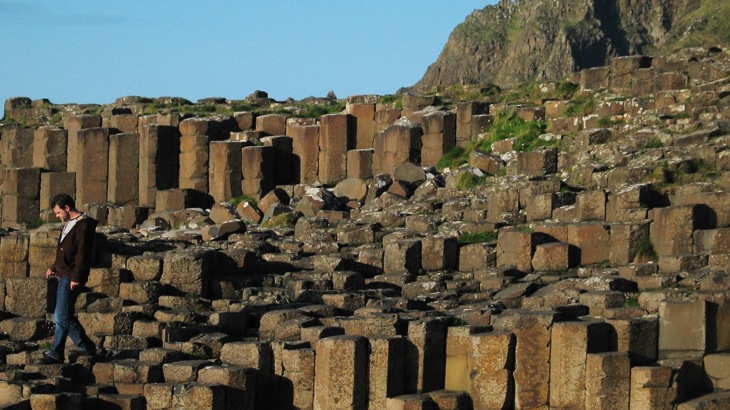 The iconic basalt columns of this UNESCO World Heritage Site seem like they come from another age. You can take hikes along the cliffs, use an audio guide or take a guided tour, and there's an extensive visitor centre too, which you get reduced entrance to if coming by bike.
Please note that National Route 93, of which the Causeway Coast route is a part, is predominantly on-road in an area with many tourists, so is only recommended for experienced touring cyclists. 
National Trust for Scotland
Climb to the top of this castle keep's tower – the largest surviving one in Scotland – and you'll have commanding views far and wide over the surrounding countryside. Inside, you can take a guided tour to see the artworks and artefacts hidden in the 14th-century stronghold, which lies just off the traffic-free Alloa Hillfoots Loop.
This picturesque village has been a popular shooting location for film and TV, and for good reason: strolling down its cobbled streets may well give you the feeling of having travelled back in time. The restored Culross Palace is well worth a visit, and National Route 76, which is largely traffic free in the area, passes right by the village.