Let's start the decade with our best active foot forward. Our New Year's resolutions are here to inspire a healthier, happier and more sustainable 2020.
1. Start cycling or walking to work
Build in some physical activity to your daily routine. Skip the bus and ditch the car. Plan your route and get active on your commute.
Too far to walk? You could try and travel by bus, train or car and then walk or cycle the last few miles.
Watch our Park and ride or drive challenge
2. Find a new traffic-free route to explore
Did you know there are 5,273 traffic-free miles on the National Cycle Network? These routes are perfect for a gentle amble or cycle. Plan to discover a new region or route this year.
3. Give a couple of minutes to the National Cycle Network
You can help look after your local route. Next time you're out on a ride or walk why not pick up a few bits of litter? Give a grubby sign a wipe down? And if you do spot any big problems, please report it to your local authority.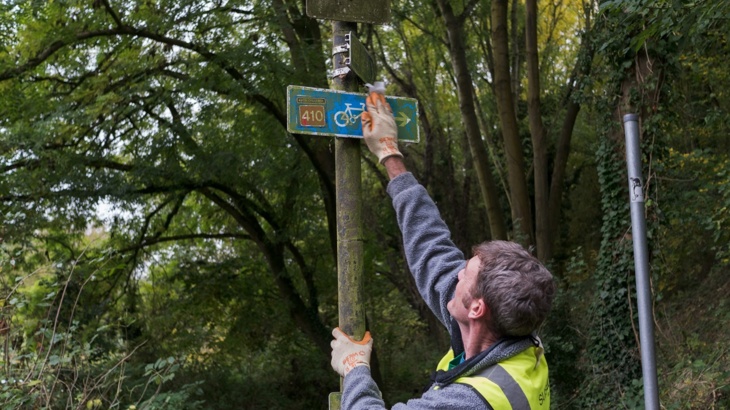 Sustrans' volunteer cleaning mud off a sign on the National Cycle Network.
4. Walk, cycle or scoot to school
Start good habits early. Kids who include physical activity in their daily lives are more likely to be active in adult life. So, why not get walking, cycling and scooting on the school run? 
There's plenty of benefits to your own health. And you'll be reducing air pollution and congestion around the school gates. Bonus. 
Download a free family guide to an active school run
5. Set yourself a challenge
Keep yourself motivated by setting yourself a goal for later in the year. This might be taking part in an organised event. Or why not browse our long-distance routes on the National Cycle Network and plan your own adventure. 
Coast to coast long-distance cycle routes
6. Join Team Sustrans at RideLondon 2020
Talking of epic bike rides. For the ultimate cycle challenge, come and join Team Sustrans for RideLondon 2020. The event in August will see 20,000 cyclists ride a 100-mile traffic-free circuit through the streets of England's capital city.
7. Get your running shoes on
Do you feel inspired to get running this year? The NHS Couch to 5k is a great way to get started. Track down those running shoes and find your nearest traffic-free route.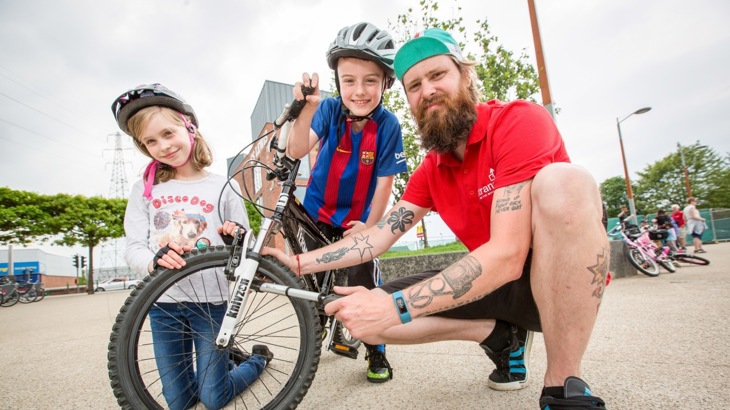 Learn a new skill or share your knowledge and teach someone else.
8. Learn a new skill…
Learn to scoot. Learn to cycle. Perfect the bicycle M-check. Or how to maintain your cycle. The new year is a perfect time for us all to learn a new skill…
9. … or teach someone else
We're always keen to learn (it's one of our key values) and we're big fans of sharing knowledge and skills with others. Let 2020 be the year for you to inspire someone else to get outside or learn something new.
10. Get mindful
Mindfulness is something we should all make time for. It helps our mental wellbeing and can reduce anxiety. Set aside time this year to practise some mindfulness while exploring the outdoors.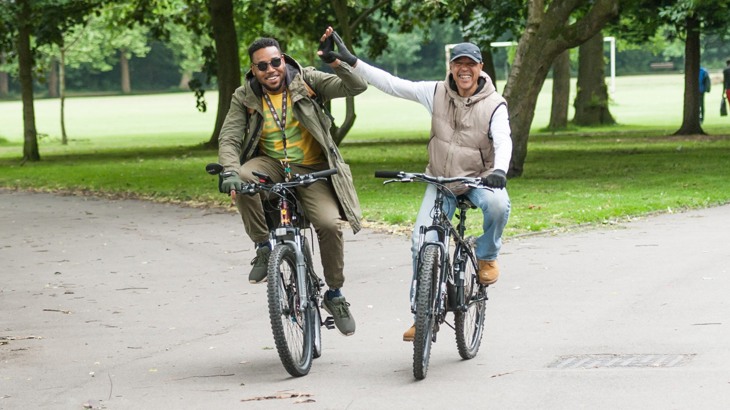 Why not choose to cycle or walk a journey you would usually take by car?
11. Make your trips environmentally friendly
And finally, it's possible for us all to make small changes to the way we travel. We can all contribute to a cleaner, greener environment. Small actions can have a big impact.
In 2020, why not try and choose active travel for a journey you might otherwise drive. Decide to use public transport more often. Or explore the idea of car-sharing.