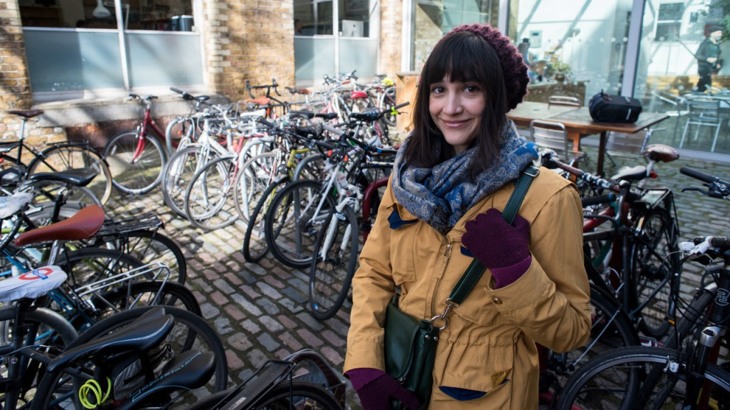 A jacket and a pair of gloves should be numbers one and two on your checklist.
Winter can be a tough time to keep cycling your commute, however hardy you may be.
Dark mornings and evenings coupled with cold, wet, icy and sometimes even snowy weather can make cycling seem like a chore. But there are ways to combat whatever winter throws at you and stay in the saddle no matter what the weather.
We asked our staff how they cope and what keeps them motivated during the colder seasons. Here's what they said.
Tips
1. Keep your feet warm
There's nothing worse than frosty toes or wet feet – we recommend a decent pair of socks and waterproof shoes (or overshoes) to keep toasty.
2. Wear gloves and a hat
The same applies to your hands and head. A decent pair of gloves makes your winter commute much more pleasant. If you're particularly susceptible to the cold try a pair of ski gloves - just make sure you can still brake and change gear safely. If it's really chilly stick on a warm hat, a buff or a knitted headband - covering your ears will also make a big difference to your overall comfort.
3. Be prepared for all weather
Check the weather before you set off. If it looks like it might rain during your journey then prepare yourself before you set off. Put on your waterproofs and warm layers while you're still at home, the office or out and about. This can seem like just another thing to do when you're in a hurry, but you won't regret it when you're not caught out on the road.
4. Wear lots of thin layers
It's easy to get hot and sweaty when you're riding your bike, even in winter. Wearing thin layers means you can take things on and off so you don't end up hot and bothered when you arrive at your destination.
5. Quality waterproofs
A good quality waterproof can make all the difference to your cycle. Waterproof jackets, gloves and trousers will keep you dry no matter the weather. Many cycling-specific products will also be brightly coloured with reflective strips which will make you more visible to cars and other traffic.
Motivation
6. Keeping fit and healthy
This may not be the main reason why you cycle, but it is a good side-effect. The more regularly you cycle the fitter and healthier you will be. Cycling raises your metabolic rate, which can help keep weight off. A daily 20-minute bike ride can use the same amount of calories as a cappuccino, a bar of chocolate or a 175ml glass of wine.
7. Cycle with a friend 
It can be harder to justify going out on your bike in the winter months, but if you also use that time to socialise with a friend or colleague it can help motivate you to keep active. Why not buddy up with a friend for a regular journey or invite them to join you on your daily cycle commute. We have some top tips on how to be a bike buddy. 
8. Cycling is great for your wellbeing
Many people find cycling is a great way to de-stress and relax. Not only does regular physical activity burn calories, but it has also proven to increase mental alertness, energy, positive mood and self-esteem, as well as reducing stress and anxiety.
9. It's the best option
Cycling is often faster than walking, cheaper than driving and healthier than getting the bus – and it's more fun than all three.  
10. Treat yourself 
Why not indulge in a culinary treat after braving the rain, wind and/or cold! There are plenty of places on the National Cycle Network to stop and eat cake, fish & chips or stop for a longer sit down meal. If you've been out burning calories, you will have most certainly earned it.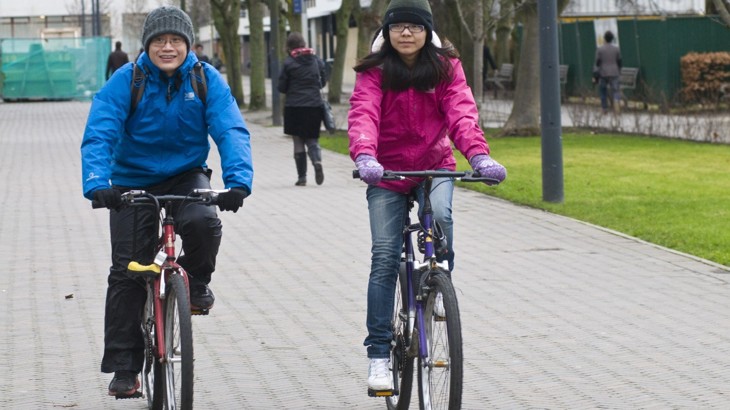 Keep your bike in tip-top condition
Water (particularly mixed with road salt) is really tough on your bike. After riding in bad weather it's a good idea to give your bike five minutes of TLC to keep things running smoothly.
First, give it a general rinse and wipe-down to remove dirt, salt and grit. Pay particular attention to the chain, gears, brakes and wheel rims.
When you're done, dry it off with an old towel. Disperse any excess water in moving parts with a spray of WD40, GT85 or something similar then add some bike oil to the chain and gear mechanism.
Get a grip
A good set of tyres will go a long way to prevent unnecessary skidding and they will also lessen the likelihood of you having to fix a puncture in the sleet and rain. Inflating the tyres a little less than you would in summer will improve traction in slippery conditions.
Pedal with care
Pedals get slippery in the wet too. If you're not comfortable with clip-in pedals, invest in some with extra grip. They're pretty easy to fit or your local bike shop can give you a hand.
Riding tips
Start slowly so that your body, especially your joints and muscles, can warm up properly. 
Leave extra time to cycle slower in wet and snowy conditions.
When riding on settled snow, brake often to clear rims. Braking is up to six times longer when rims are wet.
Avoid puddles that may hide potholes or other road hazards.
Many surfaces are slippery in the wet, like tram tracks, painted lines, metal bridges and road plates - try to avoid these as much as possible or cross them with caution.
Be aware of metal surfaces such as tram tracks and road plates which can be icy when other road surfaces are not.
If you encounter ice, steer straight, don't pedal, and try not to brake as this could cause you to skid and fall.
It can be hard for motorists to spot cyclists at the best of times, so take extra care when cycling in dark conditions.
If you are heading out on a ride in winter conditions, be sure to take extra care and don't put yourself at risk.